What Every Vacation Rental Property Manager Needs: Remote Inspection
Guest complaints and bad reviews can lead to a loss of booking income and unhappy owners. Luckily, Properly's Remote Inspection service can drastically reduce the risks of sub-par turnovers. Our experienced Remote Inspection team supervises each turnover job to ensure your service provider completes every task. We'll give you a report on how each job went and a Properly Cleanliness Certificate if you meet our standards.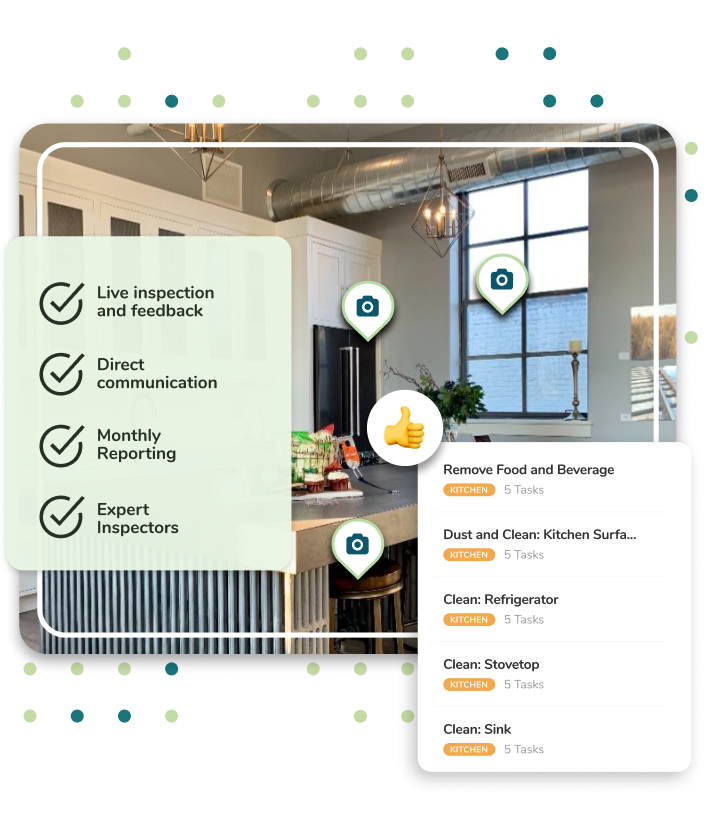 Stay in Compliance, Manage Disputes, Achieve Perfect Turnovers
Properly has developed top-tier cleaning standards thanks to years of experience, millions of jobs sent across our platform, and 80,000 digital reviews. Our team includes seasoned hosts and managers who run successful rentals of their own, so we know what makes a perfect turnover.
Our Remote Inspection team ensures that your service provider checks in on time and remains on standby to support them during turnovers. They also review verification photos your service provider uploads and give them instant feedback while they're still at the property.
We've leveraged our expertise to create best practice cleaning Checklists that we can tailor to any property. Our Checklists are made up of robust operating standards to ensure high-quality turnovers.
No spot gets missed when our Remote Inspection team is on the job.
Get a Turnover Job Report
We'll send you a job report after each Remote Inspection. It'll include an overview of the tasks completed, including any feedback we provided during the inspection.
Job reports are an excellent way to keep track of any maintenance and cleaning work done on the property and its condition before guests arrive. 
A detailed report of the property's cleaning service can help you resolve disputes or guest refund requests. 
Serious guest complaints that could lead to refunds include major cleanliness issues typically involving bed sheets, towels, and pests (like bed bugs.)
Turnovers that meet our cleaning standards are graded based on the quality of the work. A+ graded properties receive a Properly Cleanliness Certificate courtesy of our expert Remote Inspection team.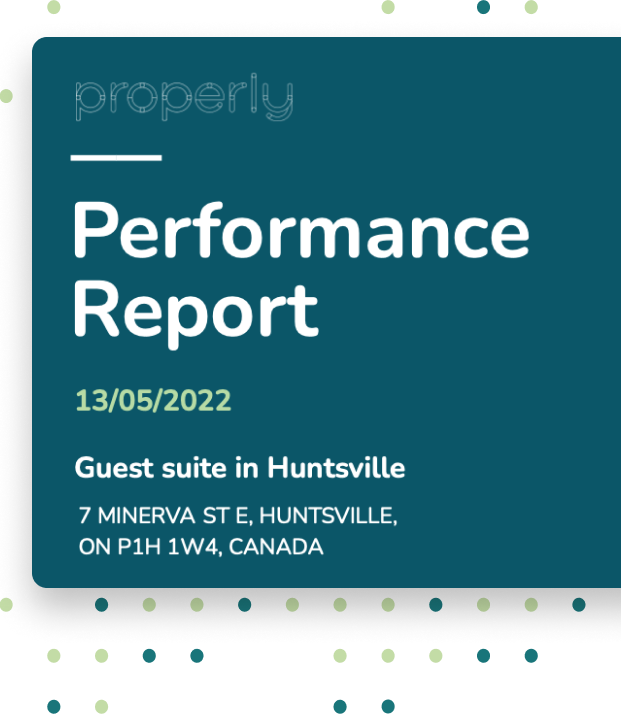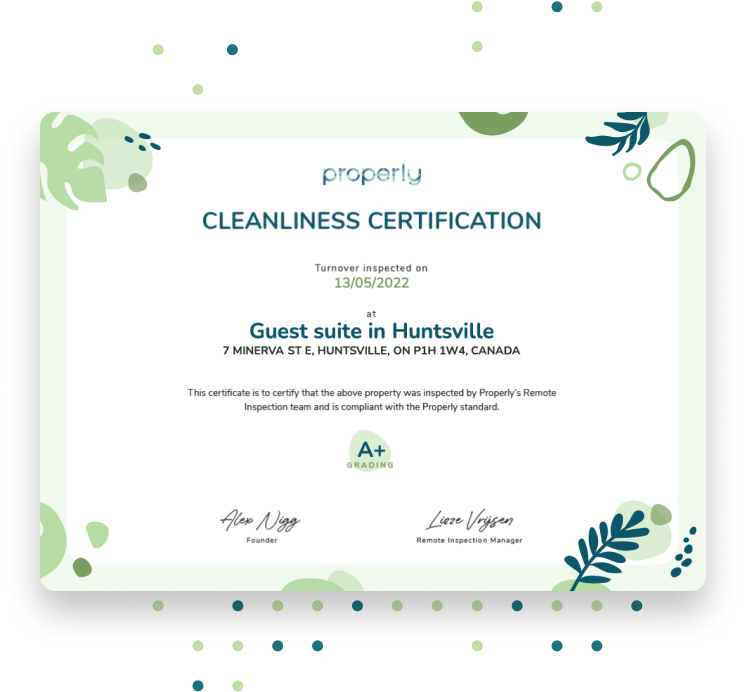 Earn a Properly Cleanliness Certification
We give special recognition to Vacation Rentals that conform to our exceptional standards of high-quality turnovers, an excellent service reputation, and a proactive cleaning response.
Use our best practice Checklists to ensure the property gets cleaned to the Properly standard.
We award these properties a Properly Cleanliness Certification that verifies that the property was Properly cleaned, Properly inspected, and in perfect condition for guests.

You can use your Properly Cleanliness Certification to prevent disputes and avoid guest refund claims.
Get Setup With Properly to Start Using Remote Inspection
Properly's innovative services strive to make life easier for property managers. If you're not a Properly user yet, sign up by using the form below and our team of experts will set up your account for you.
Account Setup
We create your Properly account using your provided email address.
Listing Connection
We connect your properties' listings to your Properly account and import your bookings.
Cleaner Invitation
We invite your service provider(s) to the Properly app. We'll take care of onboarding and training them!
Checklist Building
We build your cleaning checklist from our best practice Checklist Library and customize it to the property.
Job Report
We'll provide you with a job report after every Remote Inspection is performed so you can stay informed.
Cleanliness Certificate
We'll give you a Properly Cleanliness certification after the property has been cleaned to certify the turnover job.
Request a Remote Inspection Quote
Enter your information below to be contacted about Remote Inspection
Remote Inspection (PM)
"*" indicates required fields
Remote Inspection Fee
What's included in the inspection:
•

Remote cleaning inspection in real-time

•

Service provider support

•

Direct in-app chat feature

•

Instant, live feedback

•

Photo verification

•

Problems (if any) reported to owner

•

Job report

•

Properly Cleanliness Certificate
Rated the best home inspection software by Property Managers around the world!
Properly's Remote Inspection service goes beyond the app. Their optional Remote Inspection team is the secret weapon that helps me manage multiple properties without the stress.
Properly is the best home inspection software that's simple and easy to use. I can manage my properties while traveling or fully booked with meetings.
I quickly realized that Properly eased my work as a property manager the moment I started using Remote Inspection. I trust them in overseeing turnover jobs and making sure that the property is ready for the next guest!